It is a small collection of "permanent" jewelry, without clasps, that are welded directly on in our store.
Our bracelets and rings are made out of 18K solid gold and permanent unless you deliberately choose to cut it off.
A permanent reminder can be about whatever you want it to be; a reminder to yourself or a loved one, a symbol of your children, friendship, your own journey, or a personal goal. You decide what it means to you!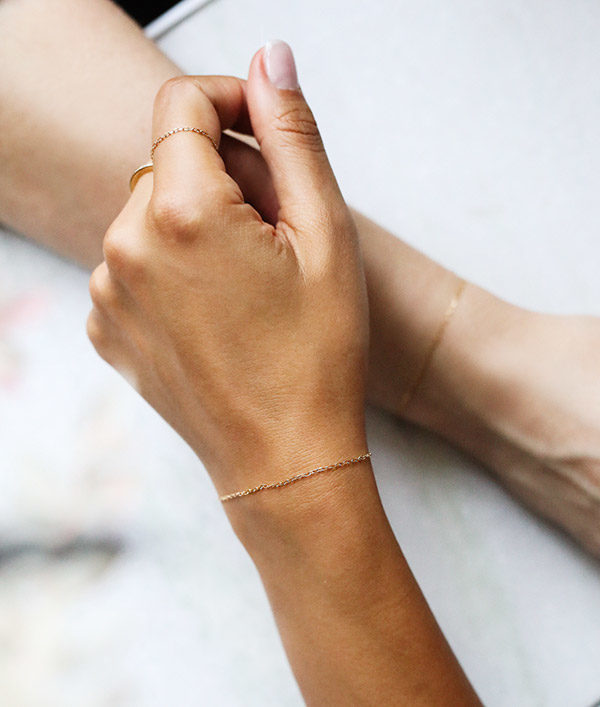 Anchor Facet Bracelet 18K Gold
1,250 DKK
Anchor Facet Ring 18K Gold
850 DKK
Ankle chain
1750 DKK
You can use MobilePay, send the exact amount to 974737 and remember to put in your name in the comment. 
Terms and conditions
Although we love the idea that A permanent reminder is permanent, the jewelry can easily be removed with pliers or a sharp scissor.
If you would like the opportunity to put the jewelry back on,
it is important that you cut the small jumpring and not the chain itself.
If you come by the shop – we will be happy to help you.
Payment & Cancellation
Payment is made at the time of booking. If you regret your purchase, it is possible to get your money back for 14 days from the date of purchase. When the jewelry has been welded on, your right to withdrawal lapses.
Complaints
In the unlikely event that the jewelry should break within the first 6 months, let us know, and we will put it back on without extra charges.
Repair
If by accident, you break your bracelet, or for some reason, have to cut it off, and would like us to put it back on, then do not hesitate to come by the shop – we will gladly help you for a small fee of 250 DKK.
Giftcards
As our gift certificates are issued for a specific product/experience, they are only valid 6 months from the date of purchase.

Discounts
Sign up discounts does not apply to A Permanent Reminder jewelry